Apartments Fine Stay Bled are located in a lovely quiet street in the most beautiful part of Bled. It's an easy and pleasant 10 minutes walk from the stunning Lake Bled – from the lake, it's 5 minutes gently uphill past restaurants, bars, shops, and hotels on the busy main street and then a turn off to the right and less than five more, down a quiet lane flanked with a fruit orchard and beautiful wildflower meadows.
The place is quiet and you can enjoy in nature and peace. It is a paradise for your soul. The bus station, gas station and grocery store are only 300 metres away (less than a 5 minute walk). The centre of the town is 500 metres away.
Location on the interactive Google map

Address: Levstikova ulica 16, 4260 Bled, Slovenia
Latitude and Longitude Coordinates: 46.365837, 14.114155
GPS coordinates: 46° 21′ 57.0132" N 14° 6′ 50.958" E
Location on the map of Slovenia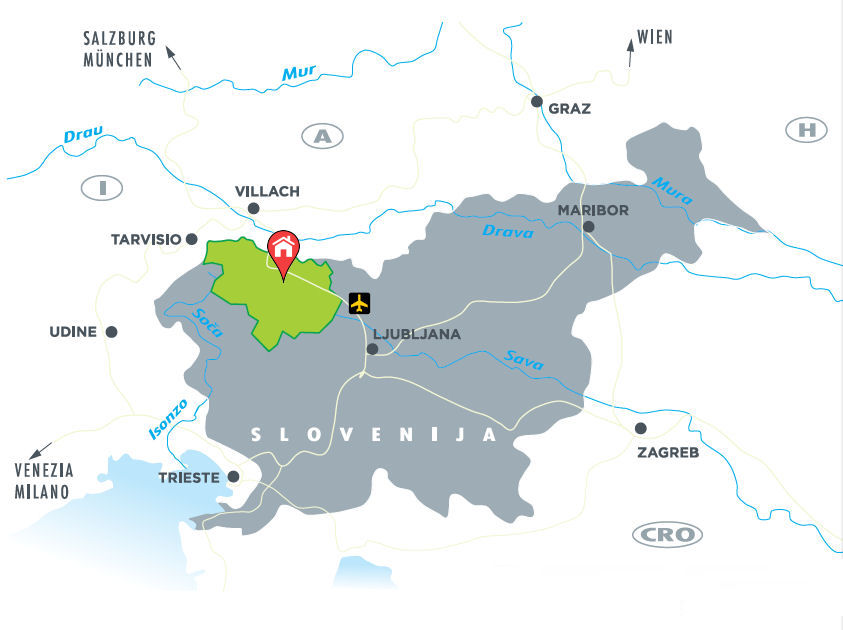 The country of Slovenia is marked with grey color.
The Gorenjska region of Slovenia is marked with green color.
The location of Bled is marked with a pinpoint.
How to Get to Bled:
Bled is situated in the heart of the Gorenjska region at the historical and geographical crossroads of western, northern and southern Europe, so it is not a surprise that it's well connected to the rest of the continent in all directions, as well as to all corners of Slovenia via the capital Ljubljana.
– By Car
Driving is by far the most convenient way to get around Slovenia, especially for those who would like to explore the countryside outside of the handful of cities and towns in the country. The apartment is only 5 km (7 minutes) from the nearest access to A2/E61 motorway that connects the Karavanke Tunnel (at the Austrian border) to Slovenia's capital Ljubljana. If arriving from abroad, don't forget to immediately purchase a Vinjeta sticker for your winscreen, which is used on Slovenian motorways in lieu of paying tolls. The roads are in good condition and well-marked, and if you ever find yourself lost there are friendly locals who are always glad to point you in the right direction. Just ask for directions to Bled.
– Distance from Ljubljana Jože Pucnik Airport (LJU) to the apartment: drive 34 km, 26 minutes
– Distance from Karawanken Tunnel (Austrian border) to the apartment: drive 29 km, 23 minutes
– Distance from Slovenia's capital Ljubljana to the apartment: drive 54 km, 43 minutes
– By Air
The nearest international airport is Ljubljana Joze Pucnik Airport (LJU) only 34 km away (26 minute drive). Lots of info for the airport, including all onward ground transport options, can be found at www.lju-airport.si. A number of rent-a-car providers are available at the airport. Alternatively, the nearby airports in Klagenfurt, Austria (KLU) and Trieste, Italy (TRS) are also popular points of arrival for travellers headed to Bled, as they offer many connections on European budget airlines.
– By Train
The main railway line of Slovenia to Western and Northern Europe passes directly through the centre of Gorenjska, with most international trains to and from Austria, Italy, Germany and beyond calling at both Kranj and Jesenice, where transfers can be made to local transport (ie trains, buses or taxis). The Lesce Bled railway station is the nearest and is 4 km away from the apartment. For a full timetable and price info visit Slovenian Railways' very user-friendly website at www.slo-zeleznice.si.
– By Bus
Most of Slovenia's international bus connections go directly to Ljubljana, where transfers can be made to national bus operators. For timetables and prices visit the official website of Ljubljana Bus Station at www.ap-ljubljana.si. In Bled the bus first stops at the Union bus stop which is about 300 meters from the apartment.
Useful links
– Traffic news: https://www.promet.si/portal/en/1traffic-conditions.aspx
– Driving directions and distances between the places: http://www.viamichelin.com
– Railway Timetable: http://www.slo-zeleznice.si/en/passengers/slovenia
– International Airport Jože Pučnik Ljubljana Brnik: http://www.lju-airport.si/en/Main
– Bus timetable: http://www.ap-ljubljana.si/eng/