Lake Bled
Refresh yourself in the cool blue waters of Lake Bled during the summer. Grajsko kopalisce (English: Castle Bathing Area) is the only designated outdoor bathing area by Lake Bled. Situated just below the magnificent castle rock, it enjoys a sunny and picturesque location. It was awarded the Blue flag as proof of its compliance with strict environmental standards.
Castle Bathing Area welcomes swimmers from June to late September. The enclosed bathing site is 300 meters long, with a total area of over 6000m2. The bathing place provides ample opportunities for fun: two waterslides, a trampoline, a climbing wall, four outdoor swimming pools, a jump board as well as climbers, swings and a sandbox for children, table tennis, chess. Visitors can find pleasant shade below beach umbrellas or under the dark green crowns of large chectnut trees.
There are over 1000 changing rooms, 107 lockers, recently renovated toilets and showers, and beach umbrella rental. Infront of the entrance, there is a boathouse where you can rent a rowing boat and row to the Bled island. Several stands in the bathing area sell refreshing drinks and snacks.
Castle Bathing Area Opening hours:
25 April – 3 May every day 9am-5pm
4 May – 1 June Saturday, Sunday 9am – 5pm
2 June – 12 June every day 10am – 6pm
13 June – 4 July every day 9am – 7pm
5 July – 5 August every day 9am – 8pm
6 Avgust – 13 September every day 9am – 7pm
Closed on rainy days.
Price for the whole day is €7 (students €5,50, children 14 and under €4,50)
Price for the afternoon (after 12am) is €6 (students €5, children 14 and under €4)
Price for the afternoon (after 5pm) is €4 (students €3, children 14 and under €2)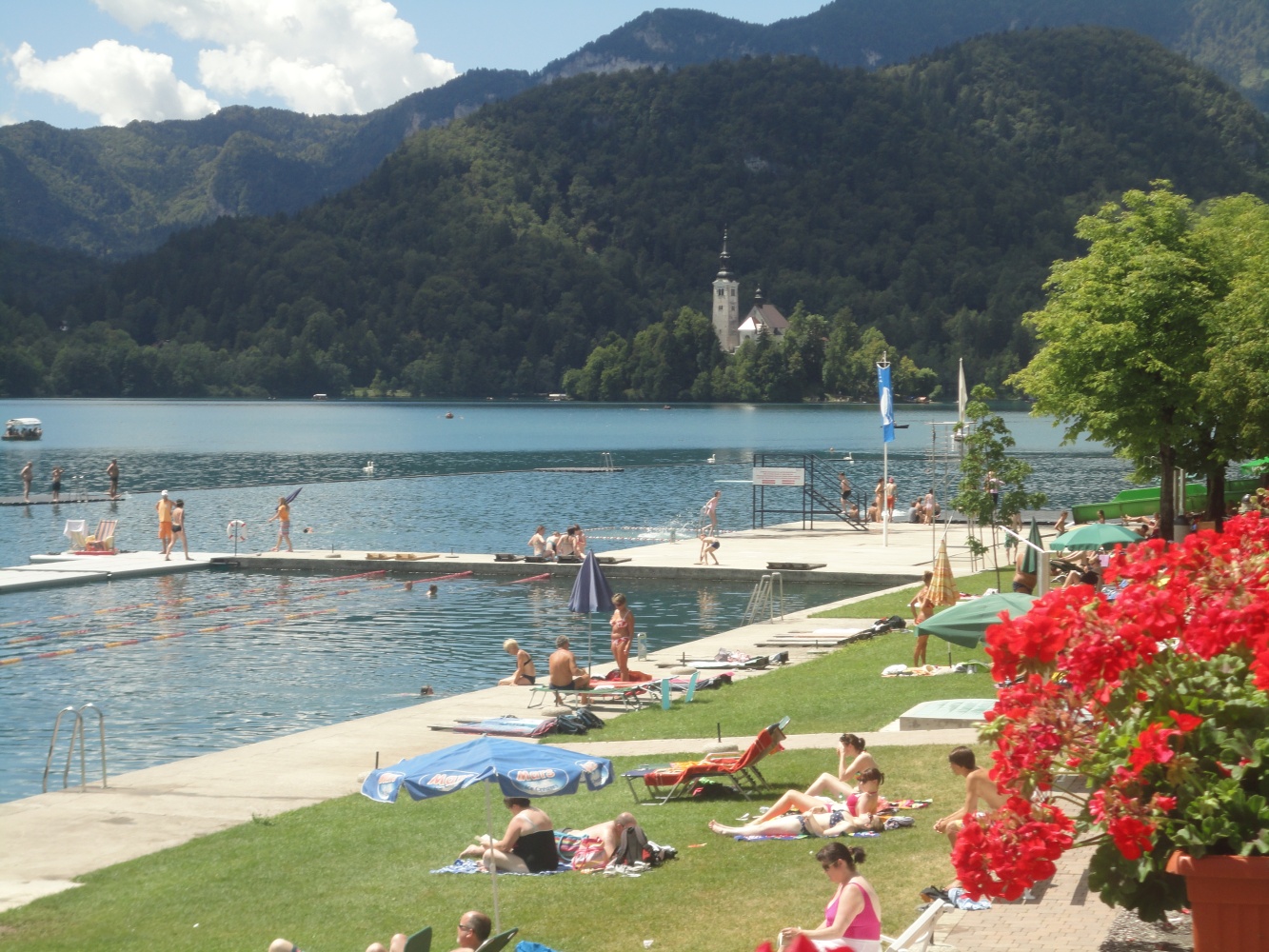 (photo: bled.si)
Address: Grajska beach, Veslaska promenada 11, 4260 Bled
Telephone: 04 578 05 28 (outside Slovenia +386 4 578 05 28)
E-mail: turizem@ibled.si
Website: http://www.kopalisce-bled.si

Velika Zaka Bathing Area
Located at the far side of Lake Bled is the Velika Zaka bay, which is a very popular place for swimming and bathing. The beach is mostly grassy with many showers available.

(photo: bled.si)
Address: Kidričeva cesta 10a, 4260 Bled

Swimming Pools
There are many swimming pools located in the Bled area. The thermal springs which are led into the swimming pools at the Grand Hotel Toplice (23°C) and the Park and Golf Hotels (Wellness Ziva) (28°C – the water is additionally heated) enable pleasant swimming and successful treatment of stress related illnesses, exhaustion, neurovegetative disorders and age-related fatigue. The small swimming pools are also in Hotel Jelovica (28°C) and in Hotel Kompas.
Golf Hotel Wellness Ziva swimming pools
Opening time: Mondays – Thursdays, Sundays 7.00 – 21.00, Fridays and Saturdays 7.00 – 23.00
Address: Cankarjeva 4, 4260 Bled
Tel.: +386 (0)4 579 17 02
E-mail: ziva@hotelibled.si

(photo: slovenia.info)

(photo: bled.si)
Park Hotel swimming pool
Address: Cesta svobode 15, 4260 Bled
Tel.: +386 (0)4 579 18 00
E-mail: hotelpark@hotelibled.com
Grand Hotel Toplice wellness centre features an indoor thermal swimming pool filled with thermal spring water, which has a beneficial effect on the nervous system and internal organs. There is a constant flow of fresh thermal water in the pool during the day; overnight, the pool is emptied and refilled with fresh thermal water. This is the best way to make sure that the water is always absolutely clean and fresh.
Address: Cesta svobode 12, 4260 Bled
Tel.: +386 (0)4 579 10 00
E-mail: ghtoplice@hotelibled.com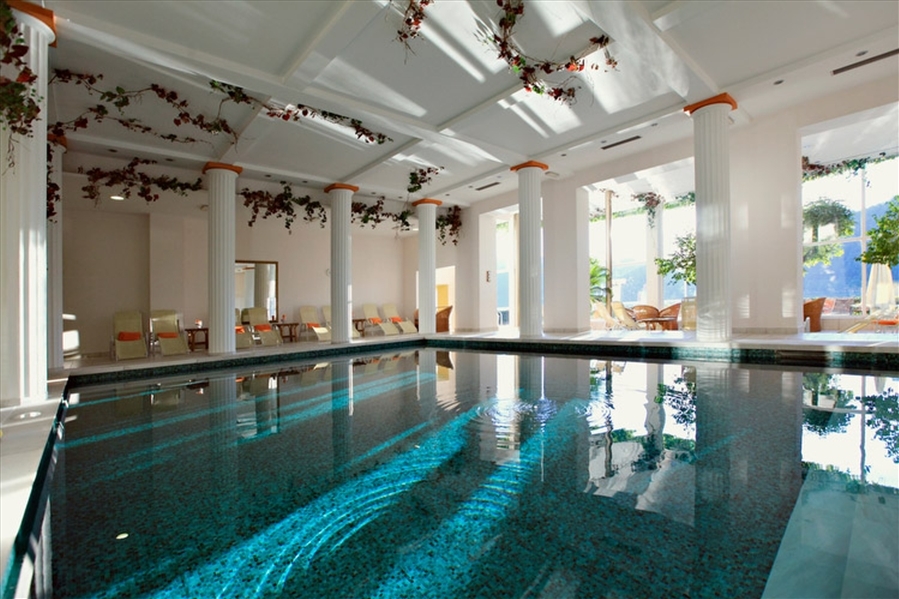 (photo: bled.si)

Directions from Apartments Fine Stay Gorenjska to the Swimming and Bathing options in the Bled area

Directions from Apartments Fine Stay Bled to the Swimming and Bathing options in the Bled area