Various wellness centres in the vicinity will pamper you by offering a range of holistic health and beauty treatments.
Ziva Wellness
The most popular wellness around. Ziva means several things in Slovenian, one of them being 'lively' – and that's just how you'll feel after a full body and soul solution at this wellness centre. With a holistic approach to physical rejuvenation, there's a wide range of massage available, body and facial treatments, plus a variety of saunas, and a plethora of water based delights to be lapped up; two storeys of thermal pools, and of course a whirlpool.
Offer: massage, facial, body care and wraps, baths, manicure, pedicure, spa pool with slide and water effects, the sauna (two Turkish steam sauna, classical Finnish sauna, and Finnish sauna with aromatherapy, Laconium heated stone beds, adventure shower, a cooling pool. Sales of Dr. Grandel cosmetics and OPI (nail lacquer)
Open 07:00 – 21:00, Fri, Sat 07:00 – 23:00.
Address: Hotel Golf, Cankarjeva 4, 4260 Bled
Tel.: +386 (0)4 579 17 02, +386 (0)4 574 17 03

(photo: slovenia.info)
Studio Luisa
Offer: thermal swimming pool with pristine spring water, Finnish, Turkish and infrared sauna, facial, depilation, manicure, pedicure, body massages, body peeling, body wraps, packages, relaxation, bath.
Address: Grand Hotel Toplice, Cesta svobode 12, 4260 Bled
Tel.: +386 (0)4 579 13 71
E-mail: studioluisa@hotelibled.com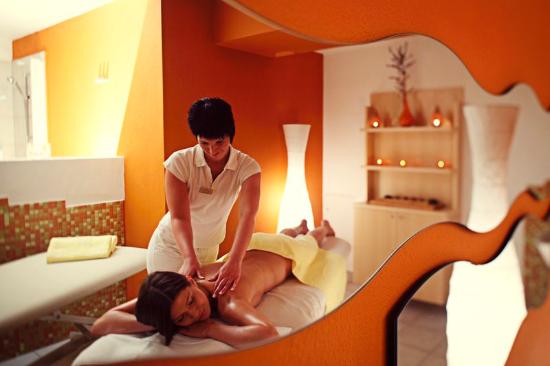 (photo: sava-hotels-resorts.com)
Wellness Ribno
Offer: Finnish-herbal and infra-red sauna, whirlpool, massages, room for complacency
Address: Hotel Ribno, Izletniska 44, 4260 Bled
Tel.: +386 (0)4 578 31 00

(photo: hotel-ribno-bled.com)
Wellness Astoria
Offer: massage, care treatments, body treatments, kneipp therapy, sauna
Address: Hotel Astoria, Presernova 44, 4260 Bled
Tel.: + 386 (0)4 579 44 10

(photo: bled.si)
Hotel Park – Thai Center Bled
Offer: infrared sauna, Thai massage, solarium
Address: Hotel Park, Cesta svobode 15, 4260 Bled
Tel.: +386 (0)4 579 18 19
E-mail: thai@siol.net

(photo: sava-hotels-resorts.com)
Sauna and Relax studio Villa Bled
Offer: Finnish and Turkish sauna, traditional and Thai massage, jacuzzi, water bath
Address: Cesta svobode 26, 4260 Bled
Tel.: +386 (0)4 575 37 10

(photo: bled.si)
Wellness Essense
Offer: Finnish, Turkish, hay, bread and oriental bath, whirlpool, Kneip shower under the mill wheel, solarium, Thia massage, massage with hot herbal bundles, Dr. Hauschka holistic facial treatment, pedicure.
Address: Cankarjeva 20c, 4260 Bled
Tel.: +386 (0)4 576 74 50, +386 (0)40 996 666
E-mail: info@essense.si

(photo: bled.si)
Kozmeticni atelje Nives Music
Offer: facial and body treatments, medicall care-eagle, massages, manicures, high quality tanning bed, tattoo, piercing, permanent make-up for ladies and gentlemen
Address: Ljubljanska 20, 4260 Bled
Tel.: +386 (0)4 574 13 60, +386 (0)41 761 115
E-mail: nives.music@telemach.net

(photo: facebook.com)
Directions from Apartments Fine Stay Gorenjska to various wellness and beauty centres in the vicinity (drive 9-13 km, 10-17 minutes)

Directions from Apartments Fine Stay Bled to various wellness and beauty centres in the vicinity (walk 500-1200 m, 6-15 minutes)