Mostnica Gorge is located in the surrounding area of Lake Bohinj, about 35 minutes drive from the Bled area. The best place to start the exploration of Mostnica Gorge is in the Stara Fuzina village, where you pass the Zois' mansion right up to Devil's Bridge. Not far from the bridge is a trailhead that leads through a forest, where you can view this beautiful gorge. The crystal clear Mostnica stream has carved a 2-kilometer gorge and you can observe interesting creatures of nature along the trail, i.e. waterfalls, pools etc. A hollow rock which got the name "Little Elephant" is especially interesting, since it emerged when the water broke through a rock. The hike takes about one and a half hour and it's a quite comfortable hike.
You'll be amazed by what nature can do, when you see Mostnica Gorge. It's a lovely, breathtaking walk through the forest, while you admire the emerald green water. Words cannot describe this, really. It's a photography enthusiast's paradise. Unlike the much more famous Vintgar gorge, it is a natural walk without the wood walkways and the crowds of tourists walking on them. At the end of the gorge, there is a short up-hill path which takes you to the restaurant, where you can enjoy a wonderful view and awesome homemade food.
All in all, an unbelievable work of nature and a fantastic hike for all the people who enjoy walking and nature, but are not exactly mountain climbers. Also suitable for children and dogs. Entrance fee (for maintaining the paths) is only €2. If you are into your walking then what is not to like, well laid out pathways either side of the gorge so you can make the most of it getting different views on the way up as the way down.
Mostnica Gorge is situated in the Voje valley, which lies northeast of Lake Bohinj near the Stara Fuzina village.


Image by Grant Bishop / CC BY-SA 2.0
A limestone formation which got the name Little Elephant.


Image by Mars 2002 / CC BY-SA 3.0
Water carving through rock.

Narrow gorge – the Mostnica River has carved out a limestone gorge, about 2km long and at places only 1 meter wide.


Image by Robert Wilson / CC BY 2.0
Little fall.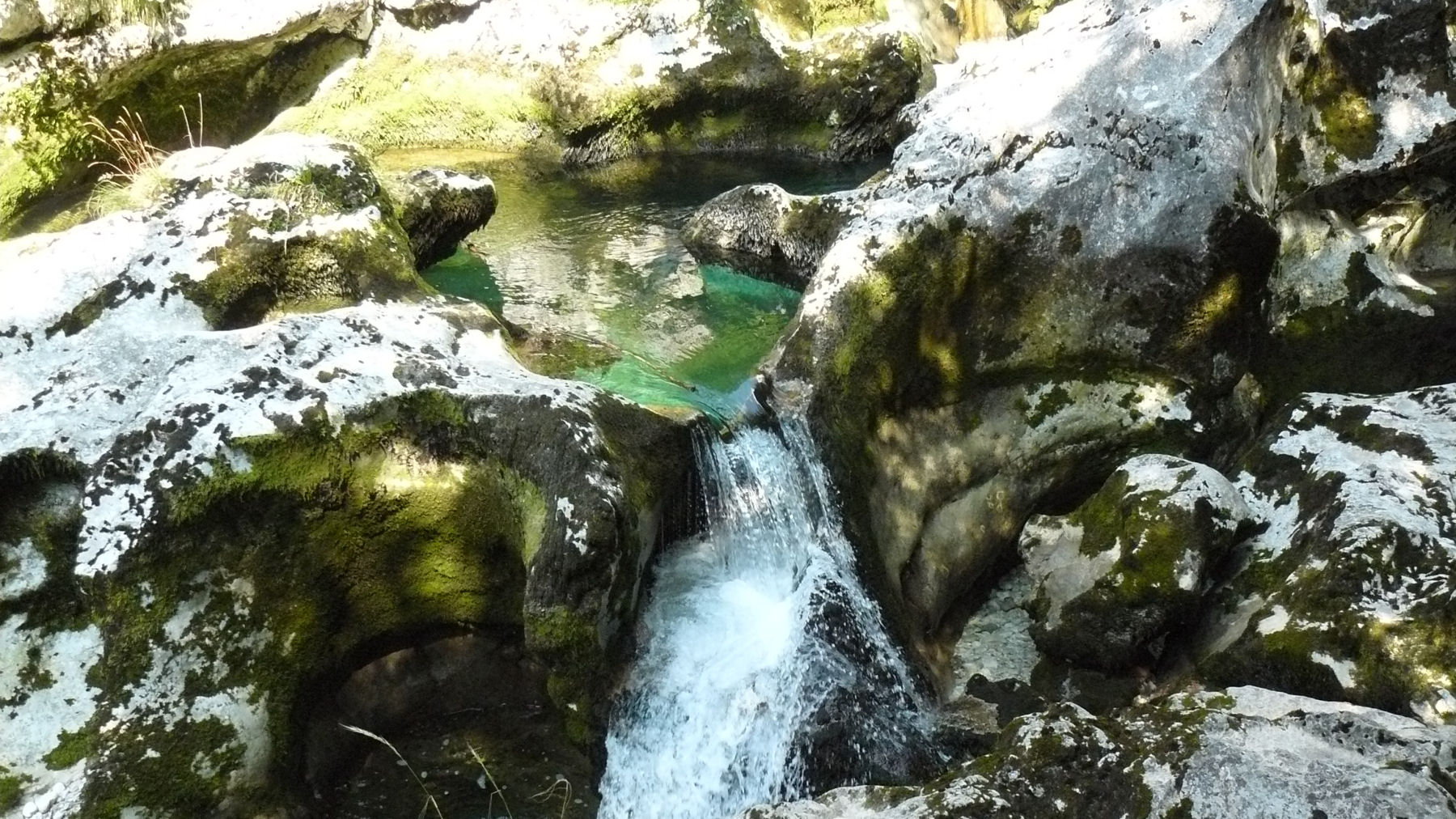 Image by Julie Mac / CC BY 2.0
The water is a clear emerald green and very, very cold.


Image by Caroline Ingram / CC BY-ND 2.0
More info about the Mostnica Gorge: Mostnica Gorge Review
More Mostnica Gorge photos: 10 Beautiful Photos To Inspire You to Visit the Mostnica Gorge
Location:
Mostnica Gorge address: Stara Fuzina 217, 4265 Bohinjsko jezero, Slovenia
Mostnica Gorge Latitude and Longitude Coordinates: 46.29842, 13.88540
Mostnica Gorge GPS coordinates: 46° 17′ 54.3120" N 13° 53′ 7.4400" E
Traditional region: Upper Carniola (Slovene: Gorenjska)
Municipality: Bohinj
Directions from Apartments Fine Stay Gorenjska to Mostnica Gorge (drive 38 km, 42 min)

Directions from Apartments Fine Stay Bled to Mostnica Gorge (drive 29 km, 36 min)