Apartments Fine Stay Gorenjska are located in the green Zavrsnica valley in the heart of the Gorenjska region of Slovenia, only 6 km from the famous Lake Bled and 30 minutes drive from Ljubljana Joze Pucnik Airport (LJU). The location is really beautiful and quiet and the proximity to the natural attractions in the area (Lake Bled, Vintgar Gorge, etc.) is great. The beauty of nature, the sun, the serenity and the fresh air arouse pleasant feelings in visitors throughout the year.
The location in the Zavrsnica valley in the heart of the Gorenjska region of Slovenia makes Apartments Fine Stay Gorenjska a great place to stay if you want to be within easy reach of several incredible natural and historic attractions in the region like Lake Bled, Bled castle, Vintgar gorge, Basilica of Mary Help of Christians in Brezje, Radovljica's medieval old town, Pericnik waterfall, Lake Bohinj, Triglav national park, Vogel view point, Velika Planina Alpine Pasture, Zelenci Nature Reserve, Pokljuka plateau, Savica waterfall, the medieval town of Skofja Loka, etc. More information on these sights and attractions is available in the WHAT TO SEE section.
Elevated view of Lake Bled from the Ojstrica viewpoint and the location of Apartments Fine Stay Gorenjska.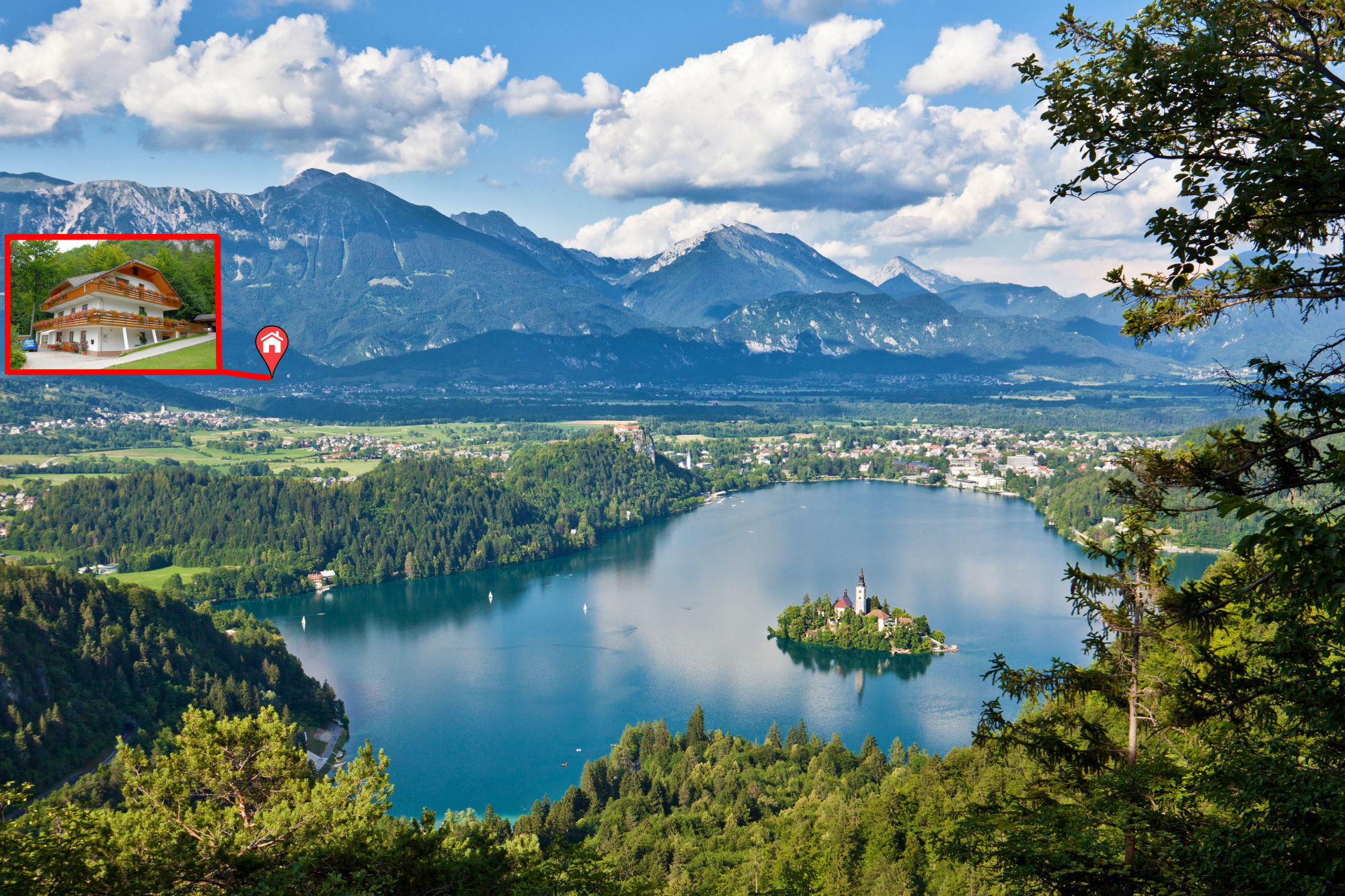 There are also many things you can do in both the immediate and a little more distant vicinity of Apartments Fine Stay Gorenjska. The entire Gorenjska region (a.k.a Upper Carniola a.k.a Slovenian Alps a.k.a Oberkrain) is a paradise for lovers of sports and outdoor activities. Swimming, bathing and numerous other water-based activities, cycling, hiking, horse riding, fishing, golf, beach volley, tennis and in winter also skiing, snowboarding, ice skating, sledding, snowshoeing and much more. If you're feeling especially adventurous you can go tandem skydiving, or you can take a panoramic flight and see Gorenjska from above. You can also go on a trip with the steam train or visit one of the adventure/adrenaline parks in the region. There are also numerous wellness centres that will pamper you by offering a range of holistic health and beauty treatments. For those with spare time and money on their hands, there are casinos and gaming centres offering gaming 24 hours a day, along with a rich entertainment programme and excellent cuisine.
Apartments Fine Stay Gorenjska - Available Apartments:
SUPERIOR 2 BEDROOM APARTMENT WITH 3 BALCONIES
- Location: Zavrsnica valley (6 km from Lake Bled)
- Address: Moste 68d, 4274 Zirovnica
- Complete 1st floor of a large Slovenian alpine house
- Maximum No of Guests: 8 (4+4)
- 2 bedrooms (with king size beds 180 x 200 cm)
- 1 bathroom
- Large living room (23 m²) with 2 high-quality sofas that both convert to a bed (160 x 195 cm),
- Fully equipped modern kitchen
- 3 large balconies with garden furniture
- Total surface area: 84 m² (905 ft²) + balconies 22 m² (237 ft²)
- 2 flat-screen TVs with 180+ digital TV channels
- Free Wi-Fi throughout the property.
- Air conditioner with inverter function (heating-cooling).
- 2 covered parking spaces.
- Daily Price: From €54 to €159.
+ More
Location on the interactive Google map

Address: Moste 68d, 4274 Zirovnica, Slovenia
Latitude and Longitude Coordinates: 46.410841, 14.137577
GPS coordinates: 46° 24′ 39.0276" N 14° 8′ 15.2772" E
Anica Grumerec – sobodajalka
Zavrsnica valley

Elevated view of Lake Bled from a hill behind Apartments Fine Stay Gorenjska.

The Bled area and location of Apartments Fine Stay Gorenjska from the Babji Zob hill.