Ljubljana, Slovenia's capital, is considered to be a yet undiscovered gem of Europe. It is often compared with Prague due to its beautiful architectural appearance, which is the result of the legacy of different periods in history. Buildings are beautiful with different colors and ornaments. There are fountains and statues around almost any corner you turn. There are shops, cafes and restaurants for you to stick your head into and decide if it's somewhere you want to go in. The Ljubljanica River runs right through the middle. The whole area is a pedestrian zone, so you can walk around without fear of getting run over by a car. Walking along the Ljubljanica River with restaurants, shops and a lively outdoor market is a pleasant way to spend a few hours. There are squares where people gather and musicians play. Plus, there's a castle that overlooks the entire Old Town that you can see from anywhere you go.
Ljubljana Old Town
Ljubljana is a lovely small capital and its Old Town is one of the most visited tourist destinations in Slovenia with more than one million visitors a year. It's a mix of stunning architecture, a lovely river littered with charming bridges, plus heaps of nice restaurants, bars and cafes. The streets are pedestrianized so that makes it quieter and more relaxed.

Image by Jorge Cancela / CC BY 2.0

Image by Grant Bishop / CC BY-SA 2.0

Ljubljana Castle
The castle is the most prominent tourist attraction in Slovenia's capital. It's perched on top of a hill and can be seen from anywhere in Ljubljana, and you can see anywhere in Ljubljana from the castle. Some parts of the castle are free to wander through and there is something for everyone there (great views, interesting exhibits, people in costume, plenty to keep the kids interested, nice food, etc.). It can be visited either by walking up to it or by taking the funicular to the top.

Photo courtesy of Ljubljanski Grad

Image by Mark Doliner / CC BY 2.0

Preseren Square
The square is the heart of the Old Town, situated where the famous Triple Bridge crosses the Ljubljanica river and right in front of the beautiful pink Franciscan Church of the Annunciation. It's cobblestone-paved and is an great place full of life, where the tourists and locals hang out to socialize, listen to street musicians, people watch, and take in the views.

Image by Tiia Monto / CC BY-SA 3.0

Triple Bridge
The bridge is located in the centre of Ljubljana. It connects Ljubljana's historic old town on one bank and the modern part of the city on the other. The bridge was designed with a lot of Italian influence and has a Venetian look to it. It's small yet charming. There are often buskers and other street entertainers on the bridge creating a nice atmosphere.


Image by Jean-Pierre Dalbéra / CC BY 2.0

Image by TravelingOtter / CC BY 2.0

Ljubljanica River Canal
The canal splits Ljubljana's historic old town from the modern part of the city. A paved path exists along the entire way. The river's banks are lovely and you can spend a few hours just wandering along and enjoying historic buildings and architecture and many lovely outdoor cafés and restaurants. It's an excellent place to get a perspective on what living in Ljubljana is all about. You can also join a tourist boat cruise along the river. There are many boats offering a commentary in English and other languages. The 45 minute trip is well worth the price paid (the fare is €10 including guided commentary). A trip is really a lovely way to see Ljubljana. In the summer you can hire a canoe and paddle through the city.

Image by Damien Smith / CC BY-SA 2.0

Image by Selena N. B. H. / CC BY 2.0

Image by Gilad Rom / CC BY 2.0

Image by Lemsipmatt / CC BY-SA 2.0

Image by Rok Hodej / CC BY 2.0

Ljubljana Cathedral
The Cathedral of St. Nicholas in Ljubljana is the main church in Slovenia's capital city. It is not very impressive from the outside, but when you go inside it is breathtaking. The fantastic artwork adorns pretty much every inch of the inside of the cathedral, with magnificent paintings (the cathedral has recently been refurbished so the colors are vibrant), lots of gold leaf, intricate frescos on the ceiling and a striking pipe organ.

Image by Winkelbohrer / CC BY-SA 2.0

Image by Pedro Szekely / CC BY-SA 2.0

Franciscan Church of the Annunciation
The church is located in a prime position in the heart of the Old Town. It's impossible to miss this lovely salmon-pink church as it provides an beautiful backdrop to the main Preseren Square at the end of the Triple Bridge. The inside is worth a look for the painted ceiling and walls and the main altar, which was executed by a famous Italian sculptor Francesco Robba.

Image by Eleassar / CC BY-SA 3.0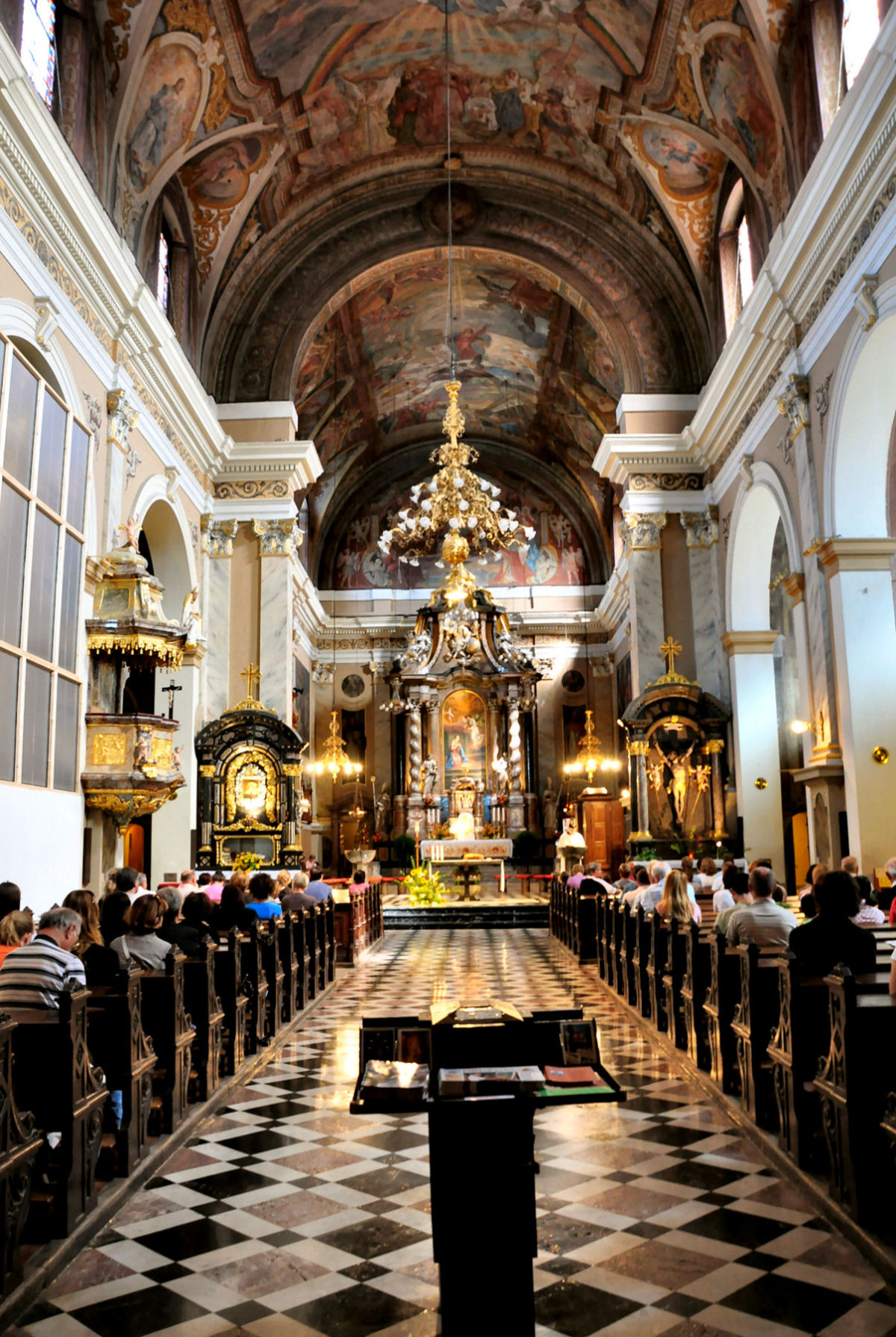 Image by Janos Korom Dr. / CC BY-SA 2.0

Image by TravelingOtter / CC BY-SA 2.0

Central Market
It's located just west of Dragon Bridge. It is filled with vendors selling every kind of fruit and vegetable imaginable. Prices are a little higher than your average supermarket prices, but it's worth the atmosphere and feel of the market to make a stop. Opening Hours: Open everyday but Sunday until 18:00 in summer, 16:00 in winter. The best time to go is probably Saturday morning.

Image by Mark Doliner / CC BY 2.0

Image by Andy L / CC BY-SA 2.0

Tivoli Park
Within walking distance from Ljubljana's Old Town, this is a lovely park for getting away and relaxing. There are many birds, and other animals here. No wonder Ljubljana is the Green Capital of 2016!


Image by DancingPhilosopher / CC BY-SA 3.0

Dragon Bridge
Every bridge in Ljubljana is different, and this is one of the most unique. Sure, it's just a bridge, but it has some fantastic dragon statues on it, and it is certainly well worth taking a look at. Ljubljana is the city of dragons and if you're walking near the Central Market or about to take the funicular up to Ljubljana Castle, make sure to stop by this lovely bridge for a nice photo opportunity.
Metelkova
Metelkova is an autonomous social centre in the centre of Ljubljana. There are some really remarkable sculptures and buildings. It's nice to have a walk through this lovely arty place. A lot of dirt on the ground but don't let that keep you away from this must-see place. It's really interesting to see how they give a new life to used items.


Image by Michael R Perry / CC BY 2.0

Ljubljana Zoo
The zoo is located a 30-40 minute walk from the Old Town. It's a nice way to spend a few hours and entry is pretty cheap. The zoo is pretty small so you can easily go around it in two hours or so. Most of the animals have good sized cages. The petting zoo is really fun for young children, the goats, small pigs and sheep are very friendly and brushes are provided for kids to stroke the animals. The animals seemed to enjoyed this as well as the kids!

Image by Tiia Monto / CC BY-SA 3.0

Image by Tiia Monto / CC BY-SA 3.0
Other notable tourist attractions in Ljubljana are National Museum of Contemporary History (Muzej Novejse Zgodovine), Vodnik Square (Vodnikov trg), Town Hall (Magistrat), National and University Library, Galerija Emporium, Butcher's Bridge, Zale Cemetery, Shoemaker's Bridge (Cevljarski Most), Slovene Ethnographic Museum, Church of St. James, Mestni Trg – Piazza civica, Ursuline Church of the Holy Trinity, Technical Museum of Slovenia, Plecnik Collection / Architectural Museum Ljubljana, Fountain of Three Carniolan Rivers (Vodnjak treh kranjskih rek), and Old Square (Stari trg).
Street view – shopping and Dining in Ljubljana


Image by Michael R Perry / CC BY 2.0
Street view


Image by Selena N. B. H. / CC BY 2.0
Street view


Image by Nicolas Vollmer / CC BY 2.0
Street view


Image by Selena N. B. H. / CC BY 2.0
Congress Square


Image by Rok Hodej / CC BY 2.0
National Museum of Slovenia


Image by Michael R Perry / CC BY 2.0
Slovene ethnographic museum


Image by Michael R Perry / CC BY 2.0
One of the buildings in Metelkova


Image by Michael R Perry / CC BY 2.0
Ljubljana old town by night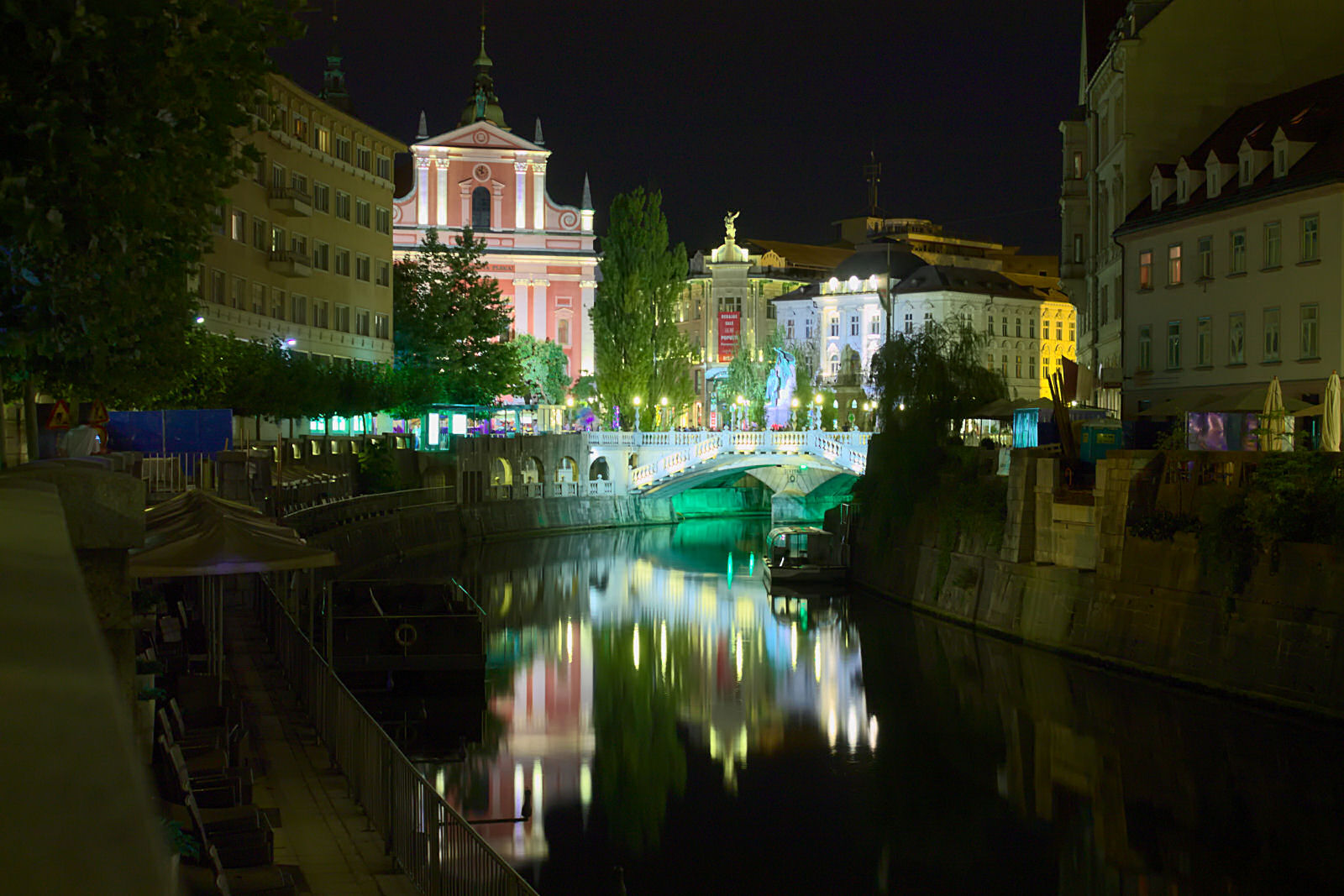 Image by Nicolas Vollmer / CC BY 2.0
Ljubljana streets at night in summer


Image by Tom / CC BY-ND 2.0
Ljubljana at night


Image by Tit Bonač / CC BY 2.0
More info and photos of Slovenia's capital Ljubljana: A short presentation of Ljubljana, the capital city of Slovenia
Location:
Ljubljana Address: Slovenska cesta 58, 1000 Ljubljana, Slovenia
Ljubljana Latitude and Longitude Coordinates: 46.056911, 14.505859
Ljubljana GPS coordinates: 46° 3′ 24.8796" N 14° 30′ 21.0924" E
Municipality: Ljubljana
Ljubljana parking coordinates:
46.060636, 14.516480
46.059608, 14.497297
46.052174, 14.510515
Directions from Apartments Fine Stay Gorenjska to the centre of Ljubljana (drive 57 km, 45 minutes)

Directions from Apartments Fine Stay Bled to the centre of Ljubljana (drive 54 km, 42 minutes)